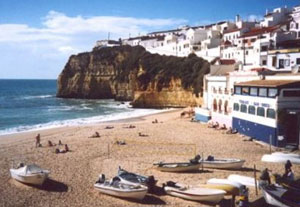 The main beach of Carvoeiro situated at the main square is medium-sized, sandy, rocky on shoreline, cliff-backed in parts. General facilities good, lacking in water sports. Three other smaller coved beaches in the area, all with very steep access.

Shopping here is limited number of souvenir shops but several general food shops. There is a daily market in Lagoa 3 miles distance.

During the daytime the Algar Seco rock formations are situated at the uppermost extremity of the resort. These have great historical value however access is via a steep slope. Most complexes have sports facilities. There is a riding school nearby and a water slide park 3 miles west.

The nightlife here, relative to the size of the town, offers a great many bars, some of which feature live entertainment. Little else. There are plenty of restaurants with varied cuisine available, caldeirada (fish stew) is a speciality.