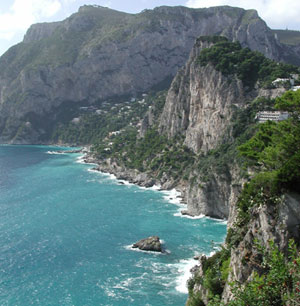 Capri is popular honeymooners, romantics, upmarket designer shoppers, hedonists, mature old money, jet-setters and artists appreciating antiquity and nature.

Hordes of day-trippers and young backpackers from the mainland regularly invade the island and enjoy it as much as anyone.

Accommodation consists of upmarket and charming properties with stylish atmospheres. The island boasts four 5-star hotels and more than a dozen 4-star. Many are converted town houses and villas perched on the hillsides in and around the rather claustrophobic town centre. 1 or 2 at Anacapri. All properties employ porters to transport luggage directly from the quayside.

It is not renowned for its beaches, the nearest one to Capri Town is a disappointing, narrow stretch of rough grey pebbles and stones just west of the harbour. Better options are found at Marina Grande, Marina Piccola and Faro Punta Carena on the south west corner of the island, which offer sunbeds, parasols and simple bars. There are numerous quiet rocky coves are dotted around the coast, many only accessible by boat.

For shopping there is an extraordinary concentration of international designer boutiques, shops and fine jewellers offering the ultimate in fashionable clothing, shoes, watches, gold bracelets, diamonds and high-tech electronic goods. This is a rich person's playground reliant on its seasonal income, so do not expect any bargains or meaningful local souvenirs.

Daytimes can be spent taking part in water sports including scuba diving, windsurfing, snorkelling and sailing. Also shopping and people-watching are popular. Time can be spent exploring the island, from Capri Town, the Giardini di Augusto, Villa Jovis and Tiberius' Leap (1 hr on foot), 14th-century monastery of S Giocomo (cloisters, garden and collection of paintings).

The nightlife here offers a handful of small and exclusive basement clubs and music bars compete with a plethora of stylish little pavement cafes and bistros, discos and cinemas in both Capri Town and Anacapri. There is a fine choice of sophisticated restaurants, bistros and informal cafes serving everything from Chateaubriand to pizza. Local specialities: fish, seafood and tomatoes with mozzarella. The local wines are highly drinkable.