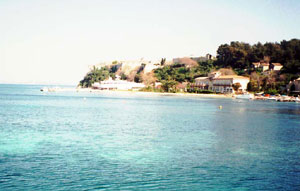 During peak season, Cannes can be very crowded; the resort's resident population of around 70,000 doubles in July and August, and during the film festival. The town's principal tourist assets beyond celebrity spotting are its beautiful beach, some enchanting winding streets in the old town and a harbour packed with gleaming luxury yachts.

Cannes also attracts a substantial number of business travellers, with the vast Palais des Festivals (Festival Hall) attracting massive trade conferences.

Cannes suits all market categories, from upmarket to backpackers, with a range of amenities to match.

Accommodation here is virtually all the grandiose monuments on La Croisette are 4-star luxury hotels but in the busy retail area behind and towards the railway station are numerous 2- and 3-star alternatives. There is around 5 miles of almost unbroken soft sand.

On La Croisette, most sections are privately owned by the grand hotels but are open to the public for a fee; these offer recliners, mattresses, sun umbrellas etc and often other amenities like a bar and restaurant.

Cannes offers plentiful water sports, but not much swimming: bathers here are more concerned with posing and people-watching. For public beaches, Midi and La Bocca to the west of the town are small, family friendly and free of charge.

La Croisette houses the chic designer boutiques and jewellers; the mass of mid-range and functional shops huddle around Rue d'Antibes while west, around Rue Meynadier, you'll find some traditional shops offering local produce. Various markets, including an antique market at Marche Forville every Monday.

During the daytime there is a wide range of water sports (arranged at the marina at the E end of the bay) including water skiing, windsurfing, kayaking, diving and sailing. There is also facilities for beach volleyball and go-karts. There are several golf clubs, facilities for tennis and squash. For the culturally minded, numerous art galleries and museums, including an exhibition of paintings by Bellini.

The nightlife here offers several casinos and a wide selection of discos, bars and eateries; a particular buzz around La Croisette, Rue du Dr Monod and Rue St Antoine, and many venues stay open late into the evening; other entertainment focuses on the chic bars of the big hotels; variety of cinemas, offering special film seasons; bowling.

There is a wide choice of top-quality, gastronomic restaurants, mostly in the palace hotels. There are vast numbers of mid-priced restaurants around the port and more atmospheric, romantic bistros in the old town. Seafood is a popular option.