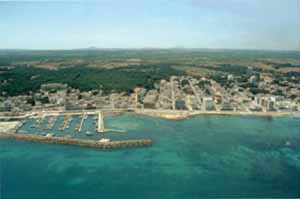 The resort has a wide traffic free beachside promenade, which is lined with restaurants and bars running from the marina and fishing harbour to the more modern Son Baulo area of the town a further 2km away to the east.

For beach lovers of all ages, the best of the resorts two main beaches is found in the Baulo district too, where you will also find a small protected nature reserve.

Parents with small children should be aware that this area has a large pool of stagnant water and is host to a number of other "less protected" species of wildlife. Although again the local council are keen to point out that the presence of Mediterranean tortoises, red pheasants, hares, rabbits, weasels, dormice and Algerian hedgehogs, all contribute to making this area of great environment significance. In all fairness this beach a very clean has does have good facilities.

Other than the numerous bars and restaurants, the resort really has very little other tourist attractions, and with the notable exception of the two nightclubs in the town, evening entertainment is generally hotel based.

A regular bus service runs along the coast road, running through Playa de Muro into nearby Alcudia.