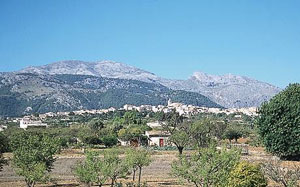 There is an assortment of everyday shops, but nothing specifically for tourists. There is also a small Tuesday market. A visit to the glass-blowing factory and showroom is a amongst the few attractions outside the peaceful village.

During the daytime visit the local caves (Coves de Campanet). Spend some time walking and exploring the beautiful countryside.

The nightlife here is limited to a few low-key local bars. Those keen on livelier pursuits and cultural activities will have to journey to Palma and other coastal resorts. For food there is a couple of cafe/bars. There is a restaurant at the 4-star hotel on the village's outskirts. For a local speciality, try the cheesecake. Ostrich is one of the region's more exotic offerings (there are ostrich farms on the island).