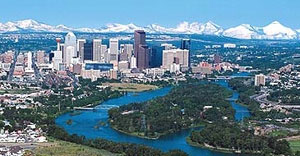 Calgary Science Centre - Aimed at children, the science centre is packed full of indoor and outdoor, hands on exhibits and activities. The Dome Discovery Theatre is worth visiting and is interesting for all the family.

Calgary Tower - Calgary's symbol of the city and most recognisable structure on the skyline. The Calgary Tower, built in 1968, rises 191m over Centre Street.

Calgary Zoo - Calgary Zoo is one of the largest in Canada. Spread over the whole of St George's Island just east of downtown on the Bow River, the zoo has over 1250 animals. An impressive Botanical Garden and huge Prehistoric Park are also on site.

Chinese Cultural Centre - One of the most impressive buildings in Calgary is also the large and fascinating Chinese Cultural Centre.

Devonian Gardens - These indoor gardens spread through the Toronto Dominion Square (shopping complex) across the 4th and mezzanine floors. With over 1km of paths, fountains, fish ponds, and 20,000 plants the gardens are a popular destination for city workers on lunch.

Fort Calgary Historic Park - Fort Calgary is the original spot of where modern day settlement began.

Heritage Park Historical Village - One of Canada's many living history parks. The park is a recreation of a Canadian town in 3 eras, 1860s, 1880s and 1910.

Inglewood Bird Sanctuary - At the end of 9th Avenue is a 32 hectare bird sanctuary and interpretive centre. Prince's Island Park - One of the Bow Rivers many islands, Prince's Island is a beautiful park connected to both banks my pedestrian bridges.

Saddledome and Stampede Park - The Saddledome is home to the world-famous Calgary Stampede, a real rodeo, which is held annually at the beginning of July. Stampede Park and the Saddledome are home to many events and activities throughout the year including the Grain Academy.