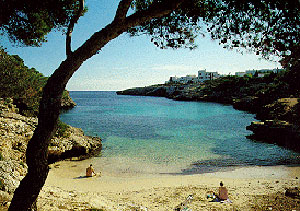 Entertainment and attractions here are beach centred with the principal one, Playa Domingos in the past has been awarded the European blue flag. It is less than 100 yds wide, and although there are others suitable for bathing, there is not enough sand for all the bodies in peak periods.

Accommodation consists of 1970s hotel blocks and more recent, better designed apartments. All are in the middle range of quality.

Nightlife in the area consists of the odd disco and music bar, together with the in-house programmes run by most hotels.

Popular local excursions consist of a trip to Drach caves or those of Ham (7 mls), Manacor and Felanitx (old towns with weekly markets around 14 mls away), hilltop sanctuary and broad vistas from Sant Salvador.

Generally speaking this is not the most accessible part of the coast, but the hotels do arrange excursions to all of the island's main sights.