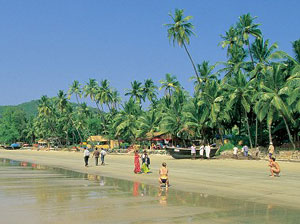 Calangute generally provides something for everyone, but not at the luxury end of the scale. It may be too bustling and commercialised for some. Popular with package tourists in peak season (October/April); at this time, most of the hotels are full and at their most expensive. There is a wide range of accommodation available, generally smaller lower to middle-grade hotels spread around town, with concentrations off the main shopping street and to the S of the village. Some beachside properties and larger, well-equipped, secluded resort-type accommodation. Calangute Beach extends more than a mile in either direction. Traditional fishing catamarans are drawn up in some places, while "shacks", bars and beach restaurants occupy much of the beach above the high-tide line. There are often large waves and a strong undertow, although careful swimming is possible. The town is virtually a bazaar, with everyday shops as well as hundreds of stalls offering tourist goods such as fabrics, silks, weavings, carved wood and an array of local products. Some international chain stores, including the likes of Benetton and Lacoste. Entertainment consists of some water sports, Kerkar Art Gallery, Colonial-era churches, Football pitches. Some hotels offer tennis and badminton courts. Boat and fishing trips are popular.
By night there are the occasional informal beach parties, where fireworks are on sale. The hotels lay on entertainments usually at least a couple of nights per week during peak season (October/April). The town is quite lively at night, with many bars, but often shuts down by about 10pm. More nightlife offered in nearby lively Baga, with its many bars and a nightclub. Mapusa (a large town to the N) holds a market Monday-Saturday, with the big day on Friday: everything from clothes and everyday goods to a vast array of flowers and local produce. Wednesday flea market at Anjuna.
Sightseeing and shopping is better suited the capital, Panjim. Magnificent Portuguese colonial churches at Old Goa. Historic Hindu and Muslim temples throughout the district of Ponda. Dudhsagar waterfalls in the interior. Crocodile Dundee river trip; Sinbad voyage; spice plantation; jeep safaris. 3-day trips to some of India's main sights, including Taj Mahal, Delhi and Mumbai; these can cost as much as the package holiday itself.