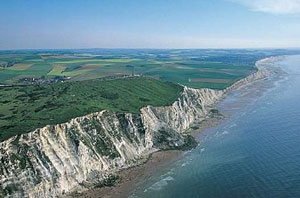 Calais is generally regarded as suitable for all ages and budgets and is very popular as a stopover and for shopping due to it's position on the coast.

Accommodation in Calais is predominantly 2-star establishments suiting those on a budget; small selection of 3-stars in the centre of Calais Nord.

The beaches are wide 3½-ml-long beach of fine yellow sand, lined with small beach huts; rather exposed to the elements but net fences create low dunes, ideal for sheltering from the wind. Low tide reveals a vast expanse of sand, suitable for land yachting and kite flying.

Suitable for swimming; lifeguard service in summer. There are generally no amenities or sunbathing facilities. The biggest attraction in Calais is without doubt it's shopping facilities built purposely to deal with stop overs and shopping trips from the UK.

The vast Cite de l'Europe shopping complex adjacent to the Channel Tunnel terminal is very popular and there are 2 large hypermarkets and many smaller competitors offering a wide selection of cheap beer, wine and cheese among other continental specialities.

There is a food market at Place d'Armes twice a week. There are some fashion boutiques, mainly in Calais Sud. Cultural and traditional attractions include a war museum housed in a concrete bunker; museum of fine arts and lace; Hotel de Ville (town hall) with "Burghers of Calais" (Auguste Rodin's bronze statues); Tour du Guet watchtower; lighthouse for panoramic views; horse and buggy rides; canal boat trips; land yachting; go-karting; cycling (tandem hire available); leisure centre with billiards and bowling; covered heated swimming pool.

Nightlife is fairly lively Rue Royale is lined with restaurants, cafes, a couple of nightclubs and a casino; various pubs in Calais Sud.

Eating out offers a selection of over 40 restaurants with a good choice of traditional local dishes, mainly fish and seafood; also Italian, Indian and Chinese establishments. Day-trippers are catered for with self-service and fast-food outlets. Prices in general are fairly reasonable.