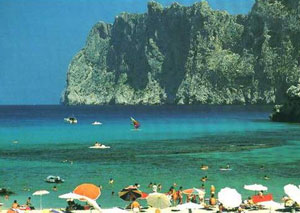 The area is suited mainly to mature couples and families with older children; this is a quiet retreat for the discerning, and those who enjoy exceptional coastal and rural scenery.

A clutch of hotels from simple to middle grade, with one or two small luxury establishments form the accommodation options in Cala San Vicente.

Beachwise, Cala Barques is the principal and prettiest, separated by a rocky knoll and a hotel from the tiny Cala Clara. Located around a sizeable headland is Cala Molins, a third sandy beach, this one augmented by imported sand each May. The waters are beautifully clear and the views tremendous.

Shopping provides only basics and souvenirs but greater variety is found in nearby Pollensa, which also has a colourful Sunday market.

Entertainment and activities like most of Mallorca's resorts don't spread too far away from the beach. Walks and general relaxation is about as much as the area offers, although for this purpose the area is fanatastic.

By night the larger hotels put on shows but this is more of a place for quiet enjoyment than organised nightlife. Puerto Pollensa is the nearest port of call for a more lively night with greater options.

Excursions tend to consist of several excellent walks, prehistoric caves just inland, an Inca Market and the old town of Pollensa and its port and Alcudia.