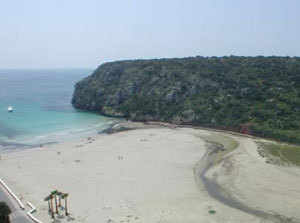 As a holiday destination, Cala'N Porter does have something for almost everyone but is generally regarded as an over 50's resort and is most popular with this age group.

There are relatively few hotels and apartment buildings in middle and budget categories. The beach here very large and dramatic, sandy protected on three sides by high cliffs. Access, by stairs or longer road, requires some effort.

Activities tend to be based around the beach and visiting some interesting caves and prehistoric stone structures nearby.

Nightlife is somewhat unusual as the only significant place is a disco located in one of the caves. For those looking to 'eat out' there is a decent choice of Spanish restaurants and some fast food.