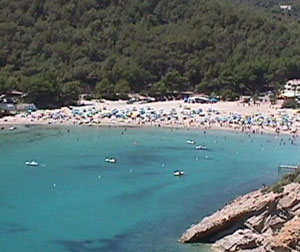 The area is located on a deeply curved, E-facing bay with a beach of gently shelving sand. Surrounded by pine-covered hills on three sides.

Holiday suitability is budget to middlemarket and is suited to families with children (owing to very safe beach) and to couples not seeking lively entertainment.

Adolescents will soon become bored and the less mobile will find the hilly terrain unsuitable.

Accommodation consists of a handful of 3-star hotels dominate beach area, but overall there are more apartment beds in the resort, distributed over a wide area behind the beach and in the surrounding hills.

The beach is deep, wide, sandy cove has gently shelving sea entry and plenty of loungers and sun shades. Children's play area at rear.

Excursions consist of Island coach tours, Boat trips to Formentera and other resorts. Glass-bottom boat trips. Aquaman Splashdown the water park visit. Finca Feast offering traditionally prepared food in countryside location. Hillbilly Hoedown- a Wild West evening. Visit to casino with live show. Ibiza by night.