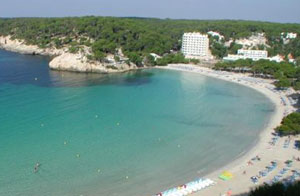 The area is most popular with those who appreciate a good beach and are prepared to fight for their space, as the resort's undeniable beauty is making it increasingly popular.

Fans of hiking, mountain biking and water sports tend to choose Cala Galdana. It is not a place easily negotiated by those with mobility difficulties.

In terms of accommodation there is a choice of middle- to upper-category hotels, apartments and villas. The beach here is broad, deep, gently shelving of fine light sand and clear waters backed by shady pine trees. Access to beach is via a wooden bridge or steps. There is a second even more picturesque beach 30-minute walk away at Cala Mitjana.