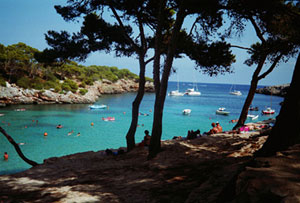 Shopping: Cala d'Or is known as the best shopping district on Mallorca, its main shopping street, Avinguda Tagomago, filled with chic boutiques, leather shops and galleries. Designer clothes and shoes, in particular, are available at reasonable prices. For designer wear a good port of call is Irocco on Avinguda Tagomago, and for a classy pair of shoes to match the outfit visit the exclusive Farrutx store near Placa Ibiza. Trendy clothes are available at two Piscies outlets in the town centre. Souvenir shopping is fun with the wide variety of local crafts, traditional pottery and glass, and olive wood carvings available at several stores, and at the Sunday morning flea market in Felanitx. Visitors can also find bargains in designer sunglasses, jewellery and perfume.

Those in self-catering apartments who need sustenance will find all they require at the resort's biggest supermarket, Caprabo, near the resort entrance.

Cala d'Or's has a varied range of eateries with upmarket restaurants situated around the marina, which is usually abuzz with a lively international crowd enjoying a variety of cuisines. The centre of town offers fast food outlets, tapas bars, pizza parlours, burger joints and several British pub 'n grub type establishments. At the marina try the Café Continental for snacks and sandwiches, or Blanco y Negro for pizzas and seafood. Port Petit is a high-class seafood restaurant renowned for quality and service. Aquarius and El Yate are two other good choices for top quality international cuisine at the marina.

By night Cala d'Or is tasteful and stylish, rather than frenetic, centred around the many cocktail bars and discos.

Popular daytime activies are mainly centred around the seven beaches, of which the largest is Cala Gran, all with fine white sand and clear shallow water. The larger beaches have good facilities offering watersports including sailing, windsurfing and scuba-diving. Those wishing to venture further afield can take a 'champagne cruise' along the coastline, ride a mini-train to picturesque Cala Mondrago with its two lovely coves, or take excursions to the villages of Cala Figuera, Puerto Petro, Sa Colonia de Sant Jordi or the isle of Cabrera.

Most hotels offer full entertainment programmes for children, and there are trampolines and mini go-karts at Mallorcalandia, as well as mini-golf in the town centre. Cala d'Or is definitely a family-oriented resort, not catering for the 18-30 single set, particularly those who enjoy a wild night-life. The music bars and discos are usually quiet by 2am. The main resort beaches can become enormously crowded, particularly during July and August, and holiday-makers have to be up and about early if they hope to secure a sunbed for the day. It is possible to bus, or hire a car, to travel to nearby less populated beaches and coves, but these are not likely to offer all the facilities of the resort beaches.

Popular Attractions/Activities/Excursions: Arta: The ancient hilltop town of Arta close to the east coast of Mallorca has been occupied for about 3,000 years, and today welcomes visitors to the remains of its Bronze Age settlement at Ses Paisses, just outside the town in a grove of olive, carob and holm oak trees. Arta presents a picturesque sight from the Santuari de Sant Salvador, the chapel-shrine on top of the hill, with its bleached rooftops spilling down the hillside below the battlements of a Moorish fortress. The town is particularly lively on Tuesdays, which is market day. Castell d'Alaro : Mallorca's most popular hiking trail is the climb from the town of Alaro up to a ruined castle and hilltop chapel, which offers panoramic views of the sea and plains as far as Palma. From Alaro the walk takes about two hours to complete. The castle ruins on the hilltop date from the 15th century and dominate the landscape. At the summit there is a restaurant and bar to refresh weary climbers. On Sundays the trail becomes rather busy.

Excursions: This part of the E coast is not ideal for tours, as the roads tend to be narrow and winding and many of the principal sights are on the opposite side of the island. Caves of Drach and Ham are, however, a convenient half-day trip. Other tours, including Palma, are generally full-day tours. Alcudia old town and Formentor Peninsula. The NW mountains; monastery at Lluc, Soller, Deya, Valldemosa. Boat cruises. Jeep safaris.