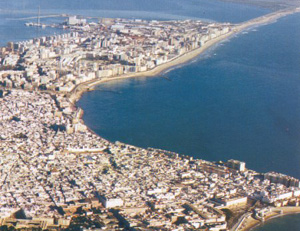 The old city looks quite Moorish in appereance and is intriguing with narrow cobbled streets opening onto small squares. The golden cupola of the cathedral looms high above long white houses and the whole place has a slightly dilapidated air.

It just takes an hour to walk around the headlands where you can visit the entire old town and pass through some lovely parks with sweeping views of the bay. If Cadiz is synonymous to the sea, it is to wine as well. If Sanlúcar de Barrameda (neighbour to the Coto de Doñana, where the Guadalquivir river meets the sea), and the Puerto de Santa María are synonymous to beaches, they are excellent vineyards as well. Conil, Tarifa (the windsurf capital), and Barbate... are known for their shores, fishing, fine sands, and pine trees.

The area near Gibraltar is rich with pastures and cattle ranches. Jerez (Sherry) produces world famous wines, as well as horses and bulls. The farm houses, and the sandy soils planted with vineyards, in the flat lands of Jerez, are an exact vision of the old, conservative, Andalucia and it's deep rooted tradition.

If you like sport then you'll be pleased to know that Rota offers year-round facilities and competitions in football, swimming, sailing, fishing, beach volleyball, volleyball, basketball, windsurfing and athletics. For general sports facilities try the Pabellón Municipal de Deportes. You can swim at the Piscina Municipal, golf at the Club Costa Ballena and ride at the Escuela Municipal De Equitacion. Given Rota's fine situation on the Bay of Cádiz sailing is a major sport in the town.

Sailing activity is centred around the Puerto Deportivo Astaroth, with its 362 moorings. There is also a sailing school - Escuela Municipal de Vela Theresa Zabell, named after the British-born Spanish Olympic yachting gold medallist.