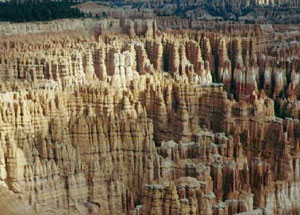 Increased visitation over the last few years has led to the introduction of access restrictions during the summer. Vehicles over 25 feet long are not allowed beyond Bryce Point, a shuttlebus service is provided instead.

As with most National Parks, the best way to appreciate Bryce Canyon is to explore away from the main roads. There are various trails along the rim and down through the formations. The Fairyland Loop Trail, an 8 mile, little-used route which descends 900 feet from the ridge road and winds through many of the fins and spires is one of the most spectacular.

Many of the formations have received official names, such as Tower Bridge due to its resemblance to one of the Thames bridges in London. The park is especially beautiful at sunrise, when the rapidly changing light and shadows make the landscape even more magical. Sunsets are not so good, as the main ridge shields the park from the west.

Temperatures in Bryce are always less than other parks in Utah due to the high elevation (7900 feet at the visitor centre, rising to 9100 feet at Rainbow Point); hence even summer hiking is usually comfortable.

However, the altitude does mean that the air is thin, and even modest hiking can become exhausting. Apart from admiring the formations, it is worth walking the short Bristlecone Loop Trail, at the south end of the park, to see the 4000-year-old bristlecone pines. These are the longest-lived species of trees in the world. Snow may be present for six months during the winter, although the park remains open all year.