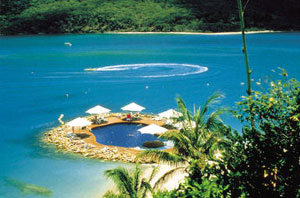 Brampton Island is particularly suited to couples, honeymooners and some families (young children are not really catered for). There is also plenty of interest for animal and bird spotters.

Due to the island being a good distance (nearly 2 hrs by boat) from the Great Barrier Reef it is not ideal for serious scuba divers, but good for snorkelling locally on the fringing reef: uniquely, the reef in the strait has been signposted to create a self-guided snorkelling adventure trail.

The resort beach at Sandy Point is fine, light, golden coral sand with sand spits being a feature. Seven other beaches are accessible via a forest track and water sports are only available for about 4 hrs a day owing to low tide; care needs to be taken for all water activities, as tides and currents are strong at certain times of day; resort staff will advise when and where is safe.

Common attractions on the island include archery, volleyball, golf, tennis, badminton, table tennis, beach cricket, bird feeding (11am daily), boules. Water sports here include snorkelling (see also "Market/Suitability"), paddle skis, windsurfing, catamarans, water-skiing, speedboat tow rides, fishing, jet-ski tours of the island. Bush walks, guided history walks, frond-weaving lessons, sarong tying, wine tasting.

By night there is a resident band a casino night and themed dinners to drive forward the evening entertainment. Popular excursions include cruises to or around other islands including the Whitsundays, dive trips to the Great Barrier Reef and fishing trips.