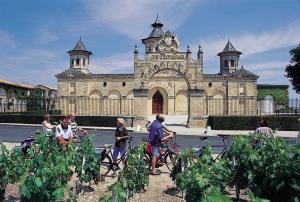 Bordeaux, whilst not exorbitantly expensive is not for anyone on a tight budget.

Accommodation is varied, with a wide choice mainly in 3 areas: the centre of town, close to the airport and by the Exhibition and Congress centres.

Daytime entertainment is largely centred around sightseeing with a wealth of buildings and monuments including the 18th-century Grand Theatre; various museums including the Musee d'Aquitaine and wine museums; handsome, historical churches, including 3 on UNESCO's world-heritage list (St Andrew's Cathedral, St Seurin Basilica and St Michel Basilica); stone bridge of Pont de Pierre with its sweeping view along the river side; botanical gardens. Guided tours (including wine tours) are available, either by foot, bus or horse-drawn carriage.

By night there are operas, ballet and classical concerts, cinema's and a range of bars and clubs.

Local excursions consist of: boat trips on the river; visit to a permanently docked modern warship; tour of the great wine-growing areas, with tastings; Gironde estuary tour.