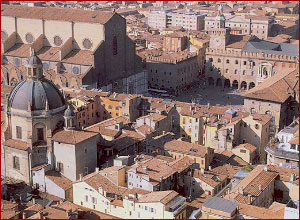 Bologna in terms of tourists is a predominantly business travellers and convention-goers. Increasing numbers of backpackers and weekenders have begun to add this place to their travel itinerary.

Those interested in medieval architecture, brickwork, churches, culture, art and food are also well suited. Bologna is also a good base for exploring the Emilia-Romagna province and the Apennines.

Accommodation is mostly middlemarket options concentrated in the centre, by the railway station and around the trade-fair complex in the N suburbs. Availability is limited and prices high during the city's many trade fairs and exhibitions.

Shopping enthusiasts are also well catered for from speciality food shops along Via Drapperie to designer boutiques, there's quality and variety. Top fashion outlets line the narrow lanes around Piazza Maggiore, more affordable options along the Via dell'Indipendenza thoroughfare and bargains aplenty in the university district. Several food markets and antique shops are worth browsing.

In terms of entertainment and attractions, there are numerous medieval churches, including San Petronio (huge brick-built Gothic edifice), San Stefano (a collection of Romanesque churches) and San Giacomo Maggiore (impressive frescoes); museums of art, astronomy and archaeology, notably Palazzo Poggi with numerous themed exhibits; Asinelli tower (one of 2 leaning towers) for a stunning city panorama (though you have to climb 500 steps to see it); walking tours embracing piazzas, palazzos (mansions), gardens and beautiful porticoed walkways.

By night their are open-air concerts during the summer arts festival, together with dance and theatre performances in some piazzas and courtyards (August generally quiet). There are also several live-music venues and popular bars in the animated university district, where things start gearing up late in the evening. The centre is populated with stylish bars, with many traditional pub-like "osterias" in the narrow lanes. Eating out in Bologna is a also favourite local pastime. From top restaurants to traditional trattorias, quality is high and fresh pastas (particularly tortelli and tortellini) are a speciality.

Restaurants are relatively good value, but more expensive in the centre. There are many cheaper options in the university district.

Excursions in Bologna consist of half day: hills around Bologna for walks, scenery and cooler summer temperatures; superb portico at the Madonna di San Luca shrine.

Full day excursions consist of: exploring the region's many towns, such as affluent Parma, with its fine restaurants, Ferrara and Modena (both medieval cities); villages and countryside in the foothills of the Apennines, such as charming Vignola and Zocca, and the spa town of Porretta Terme; Verona; Florence. Two day excursions consist of trips to: Rimini (popular Adriatic resort), nature parks and beaches of the Po delta; Tuscany's beautiful scenery and villages.