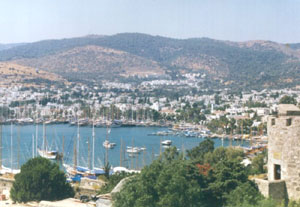 Despite its seaside position, Bodrum is not a beach resort and entertainment here is mainly centred around sightseeing. The town itself is a worthy sight; principal others are the castle and its archaeological museum; a stone amphitheatre; the ruins of the Mausoleum of Halicarnassus (one of the Seven Wonders of the Ancient World). The Hall of the Carian Princess (an ancient tomb).

By night the area is very popular with many music bars in the centre and waterfront areas and some impressive discos.

Local excursions consist of Greek Island ferries to Kos and Rhodes, coastal cruises to Ephesus, Pamukkale** (with its fantastic limestone formations). Villages and bays of the peninsula.

**Pamukkale: Calcium-rich mineral springs surging over the edge of a mountain plateau for thousands of years has resulted in an intriguing natural masterpiece. The rock formations of Pamukkale ('Cotton Castle') are a series of natural shelves and ridges, terraces that have been turned white from the solidified chalky calcium deposits left behind as the thermal waters tumble into further basins clinging to the cliff edge below. From a distance it appears to be a dazzling white fairytale castle, with a formation of tiers rising from the ground containing warm water pools. The hot springs have been used since Roman times to cure certain ailments. On the plateau is the Pamukkale Thermal enclosing the bubbling 'sacred pool of the ancients', the main source of the springs creating the white terraces, and its mineral waters are open for public bathing. Pamukkale is also the site of the ancient Roman spa-city of Hierapolis, and there are several ruins scattered about the area, including an impressive Roman theatre. It was considered a sacred site for its magic healing waters and was the weekend destination of kings and emperors of the Pergamum and Roman Empires.