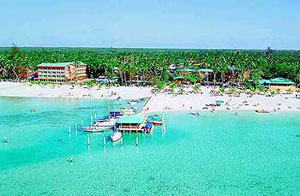 Boca Chica is a popular destination for budget to middlemarket younger couples and groups wanting a short transfer from the airport and close proximity to city facilities.
Accommodation consists of a full range of budget guesthouses and an increasing number of older all-inclusive properties of average quality. There is very little here in the luxury bracket. The beach is a flat bay of fine, white sand, ranging from 40 yds to 100 yds wide, backed by some tropical vegetation and palms; not far off shore are a pair of small islands which you can wade out to at low tide. Shallow, clear waters with the reef acting as a natural breakwater. The beach gets very lively at weekends, with hawkers and loud music.
Entertainment revolves around the beach and a choice of water sports including windsurfing, PADI diving, jet-skiing, paddle boats, water-skiing, banana-boat rides and sailing.
By night the atmosphere is lively due to generally younger clientele and nightly influx of local residents from the city. Numerous unsophisticated discos, late-night bars (most with music) and some rather seedy-looking local drinking joints, mainly concentrated around Calle Duarte, the Boca Chica "strip". Home-grown live shows and bands at bigger hotels are common. Excursions here tend to consist of glass-bottomed boat tours; yacht charter; scuba diving and snorkelling trips; deep-sea fishing; Santo Domingo for sightseeing and shopping; Los Haitises National Park.