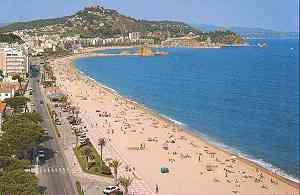 Blanes is popular with middlemarket holidaymakers of all ages, though the resort is attracting an increasing number of more mature guests in the mid-seasons.

The area is also popular with Spanish holidaymakers.

Local excursions from Blanes are pretty much the same as Lloret de Mar, with the local town council promoting visits to the smaller towns of the rural interior.

Blanes does benefit from the frequent train service through the resort areas to Barcelona.

Popular attractions in Blanes include:

Vall de Nuria Rack Rail : About two hours from the coast are the southern slopes of the western Pyrenees, where in winter skiers skim the sides of the valleys, and in summer time nature-lovers enjoy the tranquillity of the Alpine environment.

Banyoles : The historic lakeside town of Banyoles just north of Girona is well known for hosting international rowing events, but it is also a fun, attractive and interesting place to visit and perhaps work off some energy in a pedal-boat or on a bicycle. The town of Banyoles dates from 812, having grown up around a Benedictine monastery, and its old section is full of fascinating ancient buildings. The natural history and archaeological museums are worth visiting, and all is centred on a lovely arcaded square where a traditional market has been held every Wednesday since medieval times.

Girona : The city of Girona, on the route from the Pyrenees to Barcelona, is one of the most important historical sites in Spain, founded by the Romans and later a Moorish stronghold. Sitting astride the confluence of the Onyar and Ter rivers, this quaint medieval city attracts hordes of tourists from the Costa Brava resorts and Barcelona, all lured by the experience of walking through the old quarter, the Call, with its narrow alleyways and ancient stone houses. The arcaded promenade, the Rambla de la Llibertat, is lined with delightful cafes and shops selling souvenirs, crafts, antiques and curiosities. In addition the city is well supplied with museums and galleries.

Salvador Dali Museum House : The busy fishing village of Cadaques draws plenty of visitors, but they do not come for the local beach, which is narrow and stony. Rather the resort town's attractions are its picturesque natural harbour, some excellent restaurants, numerous galleries, fashion and art and craft shops, and the former home-turned-museum of world renowned surrealist painter, Salvador Dali, sited in Portlligat Bay just to the north of the town. Dali's somewhat bizarre home consists of a labyrinthine cluster of fishermen's huts, added to the original building in various stages by the artist over a period of 40 years. Visitors are conducted through the house and garden in small groups, having pre-booked.