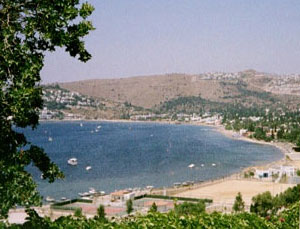 Most popular with those seeking a relaxed quiet holiday, beach and watersports.

Accommodation consists mainly of B&B's and pensions; a few self catering apartments/holiday homes can also be found in the area.

The beach here is ultra-narrow and hardly allows the average human body to stretch out with feet facing the sea.

Popular attractions in Bitez consist of water sports, such as parasailing and windsurfing, speed-boat rides, cruises aboard gulets (traditional sailing vessels).

By night the area is very subdued; what there is is provided by a couple of bars and occasionally the hotels. There is easy access, however, to lively Bodrum.