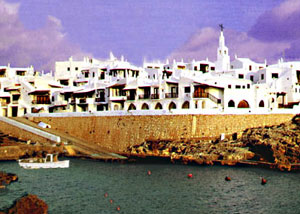 Binibeca is labeled with an upmarket tag, not generally preferred by those looking for significant organised entertainment.

Accommodation here consists of almost entirely private villas and bungalow apartments. The beach here is set within a small sandy cove with rock bathing and moorings. There is very little here in terms of entertainment, a sports club with tennis court and some prehistoric monuments in the vicinity.

The main attraction to Binibeca is the picturesque scenery and the relaxed atmosphere filled with an air of sophistication and a set of somewhat extraordinary buildings and homes at the north end. There are a some bars & restaurants and a few which are open throughout the evening (providing the only nightlife).