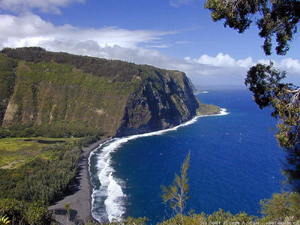 The Big Island's tropical climate is nearly ideal. Geographically it's the most diverse island of the archipelago, with deserts, rainforests, volcanoes and snow-capped mountains.

The Big Island is home to five volcanoes: Mauna Loa, Kilauea, Hualalai, Kohala and Mauna Kea. Mauna Loa and Kilauea have been the most active in recent times, with Hualalai brooding silently as an eruption possibility.

In the winter, both Mauna Kea and Mauna Loa are cloaked with a mantle of snow. The Beaches - Beach lovers can enjoy 80 or more beaches, and new ones are formed when molten lava shatteres as it hits cold ocean waters. Beautiful marine life can be observed by snorkeling or scuba diving from boat and from shore.

Popular attractions include:

Hawai'i Volcanoes National Park - established in 1916, displays the results of 70 million years of volcanism, migration, and evolution. Kilauea, the world's most active volcano, offers scientists insights on the birth of the Hawaiian Islands and visitors views of dramatic volcanic landscapes.

The Ocean - Spectacular crystal-clear Hawaiian waters awaits. Experience the stunning corals, fish, turtles, dolphins, and whales that populate the islands. Kayak across the blue water and marvel at the scenery in paradise. Don't forget your underwater camera!

Kona - Kona is famous for sportfishing, snorkeling, sunsets and coffee. It means "leeward" in Hawaiian and stretches along the isle's west side. The northern portion of the Kona side is also known as the Kohala district. You will see strikingly different terrain features as you travel up and down the coast.

Hilo - Historic Downtown Hilo is alive and bustling. More laid back from the hustle of more touristy Hawaii, one can find great bargains in this quaint town. Its diverse shopping opportunities, small scale, and friendliness makes Hilo an enchanting town to visit and explore. With lots of rain, you will find Hilo exceptionally green and fertile.