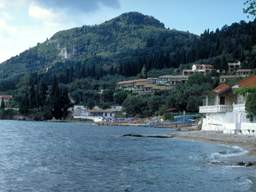 The area is less of a British favourite these days, attracting a mixture of Eastern European, German and Dutch. Some families and mature couples will probably enjoy the area, although there nothing particular for teenagers and young children to do.

In terms of accommodation, there are a few basic hotels, together with limited self-catering.

The beach here is the main focus, with para-gliding, water-skiing and pedalloes for hire in the high season. However, the beaches here are small and mostly of rough shingle and pebbles, and sloping steeply at the water's edge. Water-based activities are present in the summer; sunbeds and shades for hire. Swimming platforms and jetties are also present.

By night there are a couple of small, unsophisticated discos along the strip, as well as a variety of pubs and bars with long hours.

Excursions consist of a variety of boat trips, including one to the island of Paxos. Barbecues, cruises, island tours and flights to Athens can all be booked. Achillion Palace is also a popular excursion. There are also a variety sightseeing/shopping trip to Corfu Town.