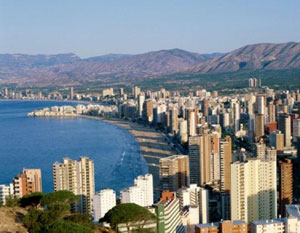 Benidorm's major attractions are its spectacular beaches. The two huge sweeping crescents stretch for over three miles (five km) and are known as Levante and Poniente - Spanish for sunrise and sunset. They are kept meticulously clean and are consistently voted among the cleanest and most popular beaches in Europe.

All sorts of watersports can be organised from the beaches from swimming and diving off the man-made rafts to jet skiing, banana boat rides, parasailing and scuba diving.

On the outskirts of town tourists can visit the water parks or Terra Mitica, Spain's largest theme park with a terrifying roller coaster.

There are also loads of options for those wishing to escape Benidorm for a day; beautiful mountainous countryside surrounds the resort and jeep safaris and cycle trips around this rugged interior are becoming increasingly popular.

Alicante, 25 miles (40km) south of Benidorm, is the Costa Blanca's main city and has a number of interesting sights. Other good days out include a coach trip to the ancient mountain fortress at Guadalest, built by the Moors in 715, and the town of Altea with its delightful medieval cobbled streets and beautiful Mediterranean views, eight miles (13km) north of Benidorm.

The streets of Benidorm are lined with gift shops catering for British tourists and the supermarkets are well stocked with well-known brands. Prices in the resort are cheap, particularly alcohol and cigarettes. There is an open-air market every Wednesday and a 'rastro' (car boot sale) every Sunday next to the railway station. The town of Altea is worth a visit on Tuesdays for its outdoor market or simply for a leisurely stroll along the promenade, while Alicante is a good destination for shoppers in search of some more sophisticated shops.

The restaurants and pubs in Benidorm are not known for their imaginative menus, or names: some of the most popular include the Queen Vic, the Geordie Bar, the Kings Arms, the Pig & Whistle and the Yorkshire Pride. They all serve good English breakfasts and Sunday roasts but don't expect haute cuisine. All the major fast food restaurants are here, as well as plenty of Chinese, Indian and Italian restaurants. The old harbour is the place to try out the local cuisines, here it is possible to get a taste of Spain and enjoy some tapas and local seafood. One of the best tapas bars is La Cava Aragonesa, along the front.

Benidorm is also one of the biggest nightspots on the Med with something to suit all tastes. There are loads of bars hosting live shows, quizzes, bingo, karaoke and drag shows. and lots of English live bands playing everything from Abba to ZZ Top. Most of the show bars are on the Levante beach side of town with the exception of the Benidorm Palace, at the northern edge of the town, which offers a lavish international cabaret show with top variety acts from around the world.

Most of the nightclubs are situated around The Square; the Hippodrome and Bahamas are popular, but serious clubbers should head for Pasha, KU Disco or the KM Club - these massive clubs can accommodate thousands of clubbers and attract DJs from all over the world.

Depsite Benidorm's range of popular attractions and activities is not a good choice for those wanting an authentic Spanish holiday, it's a bit like Blackpool in the sun, but for those looking for entertainment and nightlife it can't be beaten . There are hundreds of touts trying to sell tourists everything from trinkets to timeshare apartments - if you're not interested ignore them . There are promotions staff outside the bars and restaurants, they are quite insistent but can be worth chatting up as they sometimes offer free drinks.

Benidorm caters for all ages; older visitors may think there are too many youngsters while others think there are too many OAPs!

Local excursions consist of Guadalest Castle; the Algar waterfall; Aitana Safari Park. Cactus-landia at Altea and beauty spots in the mountains are popular. Shopping and cultural trips to Alicante and Valencia.

The most popular local attraction/excursion is that of: Terra Mitica : Situated on the outskirts of Benidorm, Terra Mitica is Spain's largest theme park and, with its rides, shows, restaurants and shops, can be a great day out for all the family.