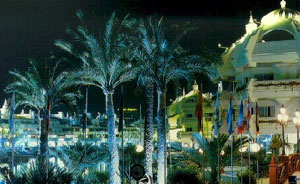 Benalmadena offers a wide range for the holiday maker, from the upmarket casino-going, yachting crowd to more budget-minded self-catering sun, sea and sand lovers.

It consists mainly of families in the summer and mature holidaymakers in the winter. The beaches are not as good as in neighbouring resorts with short stretches of sand, some of which is imported, are interspersed with rocky outcrops. At the W end, the sandy sections are very narrow and close to the busy main road.

Attractions consist of:

An archaeology museum with exhibits of Neolithic finds from the local area, plus artefacts from pre-Columbian Mexico and Central America.

The mid-size amusement park "Tivoli World" in Arroyo de la Miel has themed Wild West and flamenco shows and a cable-car ride.

The large Paloma Park which has a children's play area.

Selwo Marina dolphinarium. At the marina, there's the Sealife Centre (boasting the biggest shark collection in Europe) and the yacht club, which has water-sports facilities. Local golf course.

Benalmadena Pueblo has a museum, walled gardens around the church, a monument to Columbus (Castillo de Comares) and the Jardin de las Aguilas, a sanctuary for birds of prey.

Walking, mountain-biking and horse-riding in the mountains behind the resort is also pupular.