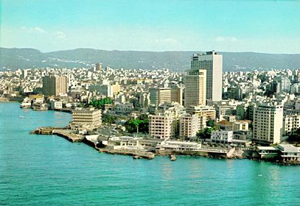 Things to see in Beirut include:
Pigeon Rocks (Rawcheh District) A monumental natural arch jutting up from the Mediterranean. Great place to sit at one of the roadside cafes and watch the sun set. Place de l'Etoile (Nejmeh Square)(Downtown District), originally built by the French in the early 20th century in the very center of the Downtown district, it suffered a lot of war damage during the war but recently has been restored. Martyr's Statue Downtown Martyr's Square, east of Nejmeh Square towards Ashrafieh. Jeita Grotto is a compound of crystallized caves in Lebanon located 20 km north of Beirut in the Valley of Nahr al-Kalb (Dog River). This grotto is made up of two limestone caves, upper galleries and a lower cave through which a 6230 m long river runs. Geologically, the caves provide a tunnel or escape route for the underground river. In this cave and galleries, the action of water in the limestone has created cathedral-like vaults full of various sizes, colors and shapes of stalactites and stalagmites, majestic curtains and fantastic rock formations. The total length of the cave is more than 9000 m and there is one among the biggest stalactites in the world hanging 8,20 m. The grotto accommodates a huge hall with a distance of 108 m from the ceiling till the water level. Museums & Galleries, Beirut contains a number of Museums and galleries, including: National Museum of Beirut, Sursock Museum, Beirut Art Centre, Matignon Gallery, AUB Museum, Emmagoss Gallery Public Parks in Beirut include: Sanayeh Park, Horsh Beirut, Khalil Gebran Park, Debbas Square, Nejmeh Square, Herbal Garden. Beirut offers a huge variety of things to do. The most popular include:
Soak up the sun in one of the beach clubs on the Beirut coast. Test your golfing skills at The Golf Club of Lebanon. Take a ride on the Beirut Balloon (30 passenger helium filled balloon, offering breathtaking views from an altitude of 300m.) Walk, jog, skate, cycle, stroll (or whatever you consider exercise) along Paris Avenue which links up to General De Gaulle Avenue (both locally known simply as the corniche) which stretch around the entire Central Beirut perimeter (approx. 5km).