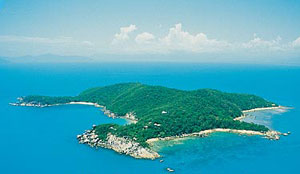 Bedarra Island is most popular with seekers of intimate luxurious seclusion in a rainforest setting. It is a fair distance (18 mls) from the outer reef, so not favoured by divers.

The island has just 1 exclusive hotel with a maximum of 30 guests. There are 8 beaches of fine golden sand including some of the best on the Great Barrier Reef islands.

Both of the main beaches at the resort have rainforest right behind them. Wedgerock Bay Beach contains enormous granite boulder formations and the hotel's water-sports centre. Apart from eating, drinking and sunbathing, the favourite here is walking in the rainforest jungle on a clearly marked trail to the now abandoned resort of Bedarra Hideaway, spotting exotic flora and fauna along the way.

Taking your own outboard dinghy and iced-champagne picnic to a private beach for the day is also a pastime of choice. There is no night scene as such and visitors are generally confined to the occasional beach party and spending evenings in the hotel.

Excursions from the island consist of various boat trips for scuba diving, big-game fishing or just cruising the local islands. Dunk Island visit is also a popular excursion.