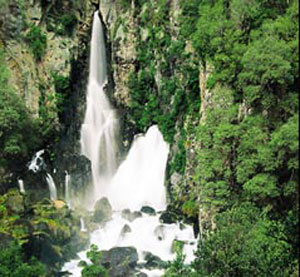 The Bay of Plenty is one of New Zealand's most popular holiday destinations, with 100's of kilometres of white sand, surf beaches, an abundance of sunshine and a temperate environment which means you can enjoy outdoor activities all year round.

Tauranga and Mt. Maunganui are located only 2.5 hours drive from Auckland and there's definitely 'plenty' to do and 'plenty' to see.

Tauranga & Mount Maunganui: This fast-growing city on the Bay of Plenty is one of the country's busiest ports and a major centre for the surrounding kiwifruit growing region. Tauranga is a vibrant city with a youthful atmosphere with plenty of cafés and a buzzing nightlife. Although it doesn't get many international visitors, Mount Maunganui, Tauranga's twin city, is one of New Zealand's major holiday destinations. The Mount's main feature is the extinct volcano cone that overlooks the popular 16km surf beach. Both Tauranga and Mount Maunganui have their unique attractions and both cities offer good accommodation options. Mount Maunganui has the beach but Tauranga has a more vibrant urban feel. Mount Maunganui's volcanic cone is its main landmark and offers a rewarding hike up to the top.

Whakatane: This pleasant town of 15,000 is a convenient place to organise trips out to White Island, which is just 50km off the coast. Other activities include swimming with dolphins and jet boating on the Matahina Dam and the Rangitaiki River. White Island, located 50km offshore from Whakatane, New Zealand's only active marine volcano offers a barren lunar landscape and amazing geothermal activity. Visiting White Island is an expensive day trip and you have the option of visiting either by boat or air, with the exception of the helicopter, flights are purely scenic and you don't get the chance to walk around on the island. Also visiting by boat also offers the opportunity to see (and perhaps swim with) dolphins.

Opotiki: Many travellers stop off at this small town before or after tackling the remote East Cape. There's not a lot to do here but there are some nice beaches nearby.

Rotorua: Rotorua is one of New Zealand's most unique cities. There are bubbling mud pools in the city's parks, steam rising from suburban front yards and that unforgettable smell of rotten eggs. Although the smell of hydrogen sulphide is a little off-putting at first, you'll soon get used to it particularly if you're planning to stay a few days. The city's thermal attractions are the main draw card with many geothermal attractions in the city centre and scattered throughout the surrounding countryside. Geothermal areas within day-tripping distance of Rotorua include Wai-O-Tapu, Hell's Gate and the Waimangu Volcanic Valley, however most people visit the more accessible Te Whakarearewa Thermal Reserve just 3km from the city centre. Te Whakarearewa also includes an excellent Maori cultural centre as well as Pohutu geyser, New Zealand's largest and most well known. Kuirau Park at the western edge of the city centre is also home of bubbling mud pools and steaming lakes -- because it is a city park it's a free attraction and a good alternative if your budget won't cover the entry fee to Te Whakarearewa. The area's thermal activity also means that there are several hot spas. Polynesian Spa near the Government Gardens in the city centre is a popular and affordable option if you want to soak in thermally heated luxury in an idyllic outdoor setting. Because Rotorua is so popular with budget travellers, a whole industry has popped up catering to the needs of the backpacker with plenty of fast-paced activities. There's bungy jumping, skydiving, white water rafting, jet boating and luge rides. An unusual activity is zorbing, where you get to roll down a hill inside an inflatable plastic ball.