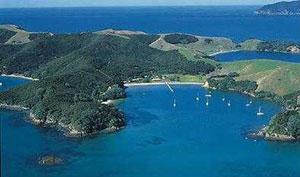 What To See :

Paihia is the main visitor centre for the Bay of Islands and is the starting point for many sightseeing cruises including the Cape Brett Hole-in-the-Rock cruise, boat hires, diving and swimming with the dolphins excursions.

A popular day excursion is the Cape Reinga trip to the northernmost point of New Zealand and features an exhilarating drive along Ninety Mile Beach.

Waitangi is within walking distance of Paihia, and it is here that the Treaty of Waitangi was signed in 1840, joining the Maori and British peoples together as a nation. The Treaty House is now a museum and is part of the Waitangi Reserve, along with a Maori meeting house and an impressive 120 feet (37 meter) 150-man canoe launched each Waitangi Day (February 6) - New Zealand's national day.

Russell is a town of very colourful history and was nicknamed the 'hell-hole of the Pacific' due to the antics of the early whalers and traders. Many of the buildings from this area have been retained and are worth visiting. Russell is only a 20 minute ferry ride from Paihia.

Kerikeri is a picturesque inlet on the northern extremity of the Bay, set amidst citrus and kiwifruit orchards. The district also bears some important historical buildings and has several craft galleries.

Attractions and Activities :

Fullers Bay of Islands provides cruises and tour that are an ideal way to explore the Northland region. From a base in Paihia, Fullers Bay of Islands offer the Cape Brett 'Hole in the Rock' cruise, Dolphin Adventures featuring swimming with the dolphins, The Supercruise (which is a combination Cream Trip and Hole in the Rock trip), Tall Ship Sailing on R. Tucker Thompson and the Excitor 'Hole in the Rock' Fast Boat Adventure.

Don't miss traveling to the very top of New Zealand via 90 Mile Beach on the Cape Reinga Wanderer or Heritage Tour. Fullers Bay of Islands is based at the Paihia Wharf, Bay of Islands.