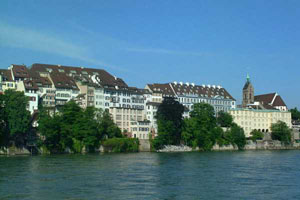 Entertainment in the area consists of guided walks around the Old City, taking in the historic 16th-century Rathaus (city hall), 11th-century cathedral and the university (the oldest in Switzerland); over 30 museums covering architecture, anatomy, local history, art, cartoons and caricature, and paper; art galleries; "3-Countries Corner" (Dreilandereck), the meeting place of France, Germany and Switzerland; zoo; botanical gardens; sports facilities including swimming pools (indoor and out), tennis, cycling, golf, bowling and squash.
Annual music and jazz festivals; 3-day carnival in early spring.
By night there is more than enough to do with theatres large and small, discos, opera, ballet, concerts, cinemas, nightclubs and bars; liveliest areas are found around the Old Town or up-and-coming Barfusserplatz. Local excursions consist of full day boat trips on the Rhine to Kaiseraugst with a guided tour of the ancient Roman city of Augusta Raurica; tour around the "3 countries" region; Alsace (France) for wine tastings; the Black Forest (Germany); Swiss Alps (2-hr drive or train journey).