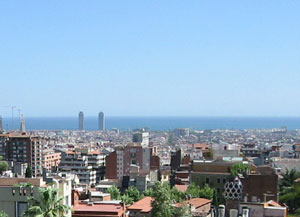 Barcelona has seven beaches, totalling 4.5 km (2.8 mi) of coastline. Sant Sebastià and Barceloneta beaches, both 1,100 m (3,610 ft) in length, are the largest, oldest and the most frequented beaches in Barcelona.

The Olympic port separates them from the other city beaches: Nova Icària, Bogatell, Mar Bella, Nova Mar Bella and Llevant. These beaches (ranging from 400 to 640 m/1,300 to 2,100 ft) were opened as a result of the city restructuring to host the 1992 Summer Olympics, when a great number of industrial buildings were demolished.

Barcelona contains 68 municipal parks, divided into 12 historic parks, 5 thematic (botanical) parks, 45 urban parks and 6 forest parks.They range from vest-pocket parks to large recreation areas. The urban parks alone cover 10% of the city (549.7 ha/1,358.3 acres).The total park surface grows about 10 ha (25 acres) per year, with a proportion of 18.1 square metres (195 sq ft) of park area per inhabitant. The old city is a twisting maze of narrow streets and ancient mansions, overlooked by the soaring spires of the flamboyant Gothic cathedral. Beyond it sprawls the elegant grid of the 19th-century new city, thickly clustered with the greatest concentration of Modernist monuments in the world.