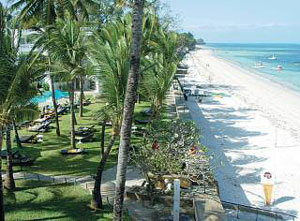 Bamburi Beach is most popular among package tourists wanting everything laid on, with plenty of activities and opportunities for day trips.

Accommodation is centred around a strip of self-contained, package-tour hotels. Attractions on and around the beach include: numerous water sports arranged by the hotels including water-skiing, scuba diving, snorkelling, glass-bottomed boat trips over the coral reef and sailing.

By night there are plenty of bars and flashy discos outside the hotels.

Local excursions consist of half day trips to Bombolulu the Cultural Centre for displays of tribal arts and dancing; Bamburi Quarry Nature Park, an old quarry converted to a nature reserve with paths and jogging circuits. Full day: water park at Kenyatta Beach (2 mls); big-game fishing trips (Dec to March).