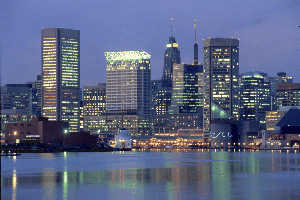 Often referred to as the 'Charm City' for its blend of little city hospitality and city finesse, Baltimore combines an interesting variety of neighbourhoods, a diverse range of attractions, and delicious seafood specialities of the Inner Harbor that include the abundant Maryland steamed blue crabs.

The distinct neighbourhoods are an attractive feature of Baltimore, among them the historic maritime district of Fells Point, the broad avenues of wealthy Mt Vernon, the village ambiance of Little Italy and the Bohemian neighbourhood of SoWeBo, or Southwest Baltimore. The dividing line between the northern and southern US states runs through the city and its southern heritage is visible in the wide front porches of the houses, and the typically laid-back southern drawl that rolls out to greet passers by.

The waterfront area and Inner Harbor are the heart of this vibrant and growing city and has become a major tourist destination featuring the World Trade Center with its 27-storey high Top of the World Observation Level, the National Aquarium, the Maryland Science Center, and the Port Discovery children's museum covering everything from art to black history and archaeology. There are also numerous restaurants, hotels and shops, and the fact that it is still a working port adds to its attraction. The water taxi service, besides providing an efficient means of harbour transport, is an excellent way to experience the waterfront and affords fantastic views of the city's skyline.