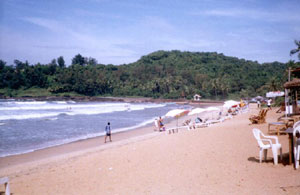 Baga is most popular with more mature European visitors with lots of package tourists from the UK and Europe during high season (October/April). Baga also attracts the young and budget-conscious, with some of the liveliest nightlife here.
Nature lovers and bird-watchers are also inspired by the area.
Accommodation here is comprehensive, although it gets heavily booked October-May. Accommodation consists mainly of modest, smaller hotels, some of which would fail to achieve a single star in Europe, and a good number of pleasant mid-range hotels, too, most with swimming pools. A couple of large, well-equipped hotel complexes can be found on the N edge of the resort. As far as attractions to the area, 'Baga Beach' is amongst the biggest, and occupies the N portion of the very long, broad, sandy Calangute Beach. It's lined with shack-style eateries, bars, plentiful sun loungers and shades, and requires a stiff hike across the dunes from the village. The beach can be very busy, especially at the N end, where many stalls and bars are concentrated. There are strong undertows, so take care when swimming. 'Shoppers' are also well complimented, with shops spread along more than a mile of Baga's main thoroughfare, with large numbers of handicrafts stalls and shops towards the N end of the resort. Designer clothes can be run up from larger tailor shops, and there are some excellent off-the-peg shops. Plentiful leather goods, jewellery and a variety of clothes; a number of small grocery shops. Large Saturday flea market ¾ ml N of the river. Other attractions besides the beach generally consist of water sports, fishing and boat tours. By night visitors will find occasional impromptu beach parties, with fireworks provided (upon payment) by beach bars. Many of the hotels lay on evening entertainment at least a couple of nights a week, October/May. Many lively bars, a couple of nightclubs and a karaoke bar.