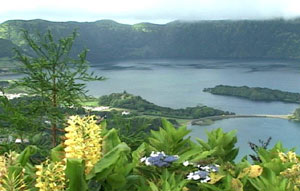 Things to see in the Azores include:
Lagoa das Sete Cidades, a beautiful hour glass green and blue body of water known as a caldera northwest of Ponta Delgada. It is storied with myths and legends. Lagoa das Furnas, an active caldera with steam vents, mud pots and geysers, locals cook food in earth ovens available in picnic areas. Lagoa da Fogo (Fire Like) is a beautiful caldera lake high up in the mountain and know for it's dramatic views and white sand beach. At Faial Island see Horta Harbour where all sail boat stop, Faial Caldera and Capelinhos volcano Pico Vulcano São Jorge green mountains and cows that produces the famous S. Jorge cheese.
Things to do in the Azores include: Whale Watching . Every town with a Marina offers whale watching. They take you out on small boats and often get you within ten yards of the whale. Velvet Adventure Sailing, Spend time sailing between the islands and exploring what each one has to offer. The boat moors in sheltered marinas or anchors in secluded bays. Angra, a historical city, an UNESCO heritage patrimony city, in Terceira island. (Airport: Terceira(TER)/ Lajes / Praia da Vitoria/ Angra).