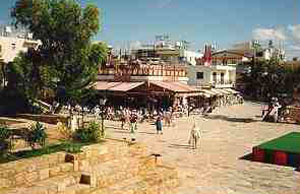 Entertainment and attractions in Ayia Napa are largely centred around the extensive, silvery sandy beaches along the coast of Ayia Napa which are washed with warm waters that provide a myriad of opportunities for watersports, including water-skiing, windsurfing, sailing, canoeing, pedal boats, motor boats, parasailing, scuba diving and snorkelling.
The Cyprus Tourism Organisation supervises the beaches, many of which have Blue Flag status. Visitors can take excursions to places like Agia Thekla, four miles (six km) to the west, with a small offshore island, Makronisos Beach, a cluster of three sheltered bays, or to the historical city of Larnaca, 25 miles (40km) along the coast.
Jeep safaris around the island itself are popular, with attractions like the Caledonian Falls and the Byzantine Monastery of Kykkos waiting to be explored. The island's position in the Mediterranean also lends itself to making excursions to other countries, even Jerusalem or Cairo, for a night or two of sightseeing. Ayia Napa is also a very popular attraction for the nightlife. Visitors to Ayia Napa soon learn that it is essential to plan an afternoon siesta, if they are to make the most of the sensational nightlife for which the resort has become world-renowned.
The Cypriot's appreciation for the good life and good times comes to the fore after the sun sets, with bars, discos, nightclubs and bouzouki clubs open well into the early hours of the morning. Most hotels have their own nightly entertainment with a resident band, and Greek nights with folk dancing are offered. The resort's clubbing scene is legendary with big name DJ's appearing frequently at popular clubs like Starsky & Hutch (70's Funk, Soul and Jazz disco), Grease (70's - 90's disco) and Insomnia (Garage, House and R&B).