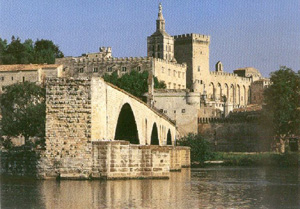 Châteauneuf-du-Pape : Châteauneuf-du-Pape is a medieval village on the side of a hill, dominated by the ruins of an ancient château towering above. The château was the pope's summer retreat from the Palais and although all that remains are the foundations and two outer walls, it is still an imposing sight and a wonderful viewpoint. The village below is a maze of well-restored medieval buildings and narrow streets that weave around the hillside. Today life in the village often involves working in the surrounding vineyards or selling the famous wine to the many tourists who visit. The village is 11 miles (18km) northeast of Avignon.

Orange : Ten miles (16km) north of Avignon, Orange was the former seat of the counts of Orange, a title created in the 8th century and passed to the Dutch crown in the 16th century. The family's most famous member was Prince William, who ascended the English throne in 1689. Today the town is best known for its spectacular Roman theatre and triumphal arch, both of which remain remarkably intact. The rest of Orange isn't strikingly picturesque, however there are pleasant tree-lined streets and squares with some nice cafes and restaurants.

Palais des Papes : Towering over Avignon the imposing Palais des Papes (Palace of the Popes) is the symbol of the city's medieval power. The palace consists of the ascetic Old Palace, commissioned by Benedict XII, and the extravagant Gothic New Palace of Clement VI.

Petit Palais : Just below the Palais des Papes, the Petit Palais contains a wonderful collection of 13th- to 15th-century paintings and sculpture. Most are the work of Italian masters from that era and, as you progress through the 19 rooms, you can observe how they wrestled with and finally conquered the representation of perspective - a revolution from medieval art, where the size of figures depended on their importance rather than position.

Pont d'Avignon : Behind the Petit Palais is the much photographed Pont d'Avignon, known best from the famous children's song of the same name. The bridge was originally built in the 12th century to shorten the journey for the busy traders ferrying their goods between the Mediterranean and Lyon.