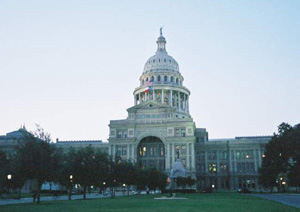 Downtown Austin - Sixth Street is the center of activity and fun in Downtown Austin. Many of the best hotels, restaurants, shops, bars, and music clubs are found on Sixth Street, which is often closed to traffic on weekends for festivals, craft shows, street dances, or parades. Nearby is the State Capitol building on Congress Avenue, where visitors can get a free guided tour.

East Austin - East Austin is the area east of I-35 that lies between Martin Luther King Boulevard to the north and Cesar Chavez Street to the south. East Austin is home to many African-American and Hispanic communities. There are a number of African-American heritage sites, including the George Washington Carver Museum. North Austin and the University of Texas - Locals call the popular shopping strip along Guadeloupe Street that borders the west side of the University of Texas campus, "The Drag". This area has hip shops, music stores, coffee shops and trendy clubs. There are also several Bed and Breakfasts nearby.

South Austin - A more laid back atmosphere, South Austin is home to the Zilker Hillside Theatre and a number of vintage clothing shops, antique shops, and several great restaurants. West Austin - Many of the upscale restaurants and affluent residential developments are in West Austin and along the shores of Lake Austin.