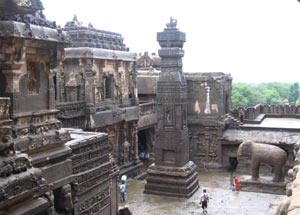 Aurangabad is primarily a site seeing hub to the following tourist attractions:

Ajanta Caves - are around 30 rock-cut cave monuments created during the first century BCE and 5th century AD, containing paintings and sculptures considered to be masterpieces of both Buddhist religious art and universal pictorial art.

Ellora Caves - Are 34 rock cut caves (actually structures excavated out of the vertical face of the Charanandri hills). This archaeological site represents Buddhist, Hindu and Jain rock cut temples and monasteries, built between the 5th century and 10th century.

Bibi Ka Maqbara - is a palace tomb built in the late 17th century similar in style (but smaller and cheaper) to the Taj Mahal. This monument is also called the Dakkhani Taj.