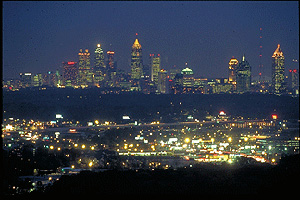 Atlanta attractions comprise an illustrious mix of historical sites, world-class museums, modern landmarks, parks and gardens and more.

Now the largest city in the Southeast, Atlanta played a significant role not only in the Civil War, but also in the subsequent social and political development of the entire United States. Today, numerous historical museums and monuments scattered throughout the city offer visitors a peek into Atlanta's past and rapid coming of age.

As interesting as Atlanta's heritage is, being a city always on the cutting edge of industrial evolution, Atlanta's contemporary amenities are equally as enticing. Whether it's a visit to the house of author Margaret Mitchell (Gone With The Wind), a tranquil stroll through the Atlanta Botanical Gardens or an intriguing tour through the CNN Centre, Atlanta's attractions are diverse, distinctive and enjoyed by all ages.

In almost every part of Atlanta, you can find interesting neighborhood nightclubs and bars featuring a wide variety of entertainments. The Grant Park area has a range of venues catering to crowds from country and western fans to rockers. Zoo Atlanta and the Atlanta Cyclorama & Civil War Museum are also located in the Grant Park area. The Cyclorama, a 42 feet-high 360-degree painting of the battle of Atlanta, has been on public display since 1898. The Museum is next to the zoo and opens daily from 9:30 AM until 4:30 PM and is popular amongst tourists.