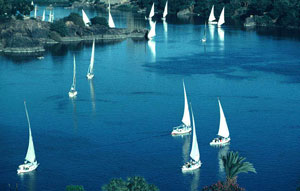 Aswan is most popular with Egyptologists and the generally curious looking for interesting excursion possibilities. A pleasant place to spend a few days while touring or a good base for a week or two's winter holiday, although there is no beach.
Extending 3 mls from N to S along the Nile and 1¾ mls from E to W, Aswan is often considered the poor relation to Luxor and has never fully geared itself up for mass-market, winter-sun tourism. The town's riverside walk, or corniche, is pleasant enough but the streets just behind this are unsophisticated, with the usual market and souvenir shopping bazaars set among a mix of tumbledown old buildings and more modern offerings.
The town's charm doesn't lie in the streets, however, but along the Nile, which is dotted with islands at this point. Accommodation here suits most pockets and expectations, although overall quality and modernity lag behind that of Western properties of comparable star ratings. Although Aswan has no beach it does have the Nile, which helps create a resort-type atmosphere. However, swimming or even dipping your toes in the river can cause waterborne diseases or exotic infections, hence is not advised. Other attractions in Aswan include: sightseeing including local temple and tomb visits; Nile cruises; a river ride on a graceful felucca is almost obligatory; Nubian Museum and traditional Egyptian cultural events, including music and dancing, at Aswan Cultural Centre. Alternatives appear to be sunbathing around the hotel pool or bargain hunting in the teeming bazaars. By night Aswan is limited to 1 or 2 of the more upmarket hotels and assorted bars. There are a handful of minor nightspots but generally insalubrious and ignored by tourists. Excursion here consist of half day and full day trips to: local sights including Elephantine Island, Aga Khan Mausoleum, Kitchener's Island Botanical Gardens, Unfinished Obelisk, Monastery of St Simeon and Tombs of the Nobles; High Dam; Philae Temple on Agilika Island (with evening sound and light shows); various temples including Kom Ombo (28 mls N of Aswan) and Edfu (77 mls N); temples of Abu Simbel, built by Ramses II. Organised excursions, picking up at hotels, are the norm though it is quite easy to arrange independent sightseeing using taxis and boats.