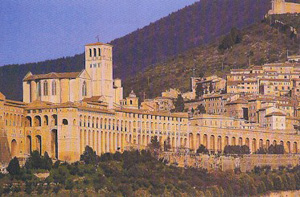 Assisi is a good town for wandering and exploring. Its narrow and steep lanes are picturesque and conceal plenty of surprises: a hidden restaurant, a faded fresco, a stunning view.

Occasional olive groves are dotted among the stairways and rooftops, where shy cats creep out of sight of passers-by. After the earthquake it suffered in 1997, Assisi has been carefully rebuilt and restored; the town has a well-kept and well-off feel to it.

You don't have to be a pilgrim to appreciate Assisi, but it helps if you have some interest in churches. For hundreds of years Assisi has been dominated by the unpretentious figure of St. Francis, whose followers filled the little town with churches, monasteries and shrines. Everywhere you look in Assisi, you'll find another fine church, mostly built in the pretty pink stone which defines the town's appearance, and mostly containing fine artworks and a few Franciscan relics. The grandest of these, of course, is the Basilica di San Francesco , the important double-decker church built to honour the humble saint, who lies in the crypt. The lower level is the older, and the more atmospheric, with stained glass windows, and frescoes attributed to Giotto, Cimabue and Simone Martini.

The upper church was damaged more severely by the earthquake, but it's bright and airy and its colourful frescoes by Giotto, Cimabue and others can still be admired.