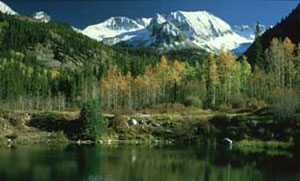 The draw card for Aspen is undoubtedly its winter activities which include an ice rink, extensive cross-country skiing, snow-cat tours, dog sledging, snowmobiling, sleigh rides and snowboarding on all 4 mountains; free swimming pool at Snowmass.

In the summer: golf, hiking, biking, fishing, horse riding, mountain climbing, white-water rafting, paragliding, helicopter rides and hot-air ballooning; gondola service; light-aircraft trips; wagon rides; skate park for skateboarders and in-line skaters; variety of concerts; food and wine festival are all available.

By night there is glamour and glitz at several fine restaurants; cabaret club and some sophisticated nightclubs and discos; Western-style bars; jazz clubs; cinemas, theatre and opera house. .

The Village: 7,937 ft. Highest lifts: 11,835 ft. High altitude and plethora of well-groomed descents on Aspen Mountain, Snowmass, Buttermilk and Aspen Highlands ensure excellent conditions Nov to April; 608 acres of piste covered by snow-making equipment. Aspen Mountain has 76 trails covering 64 mls (36 intermediate runs, 20 advanced and 20 expert). Snowmass has 84 trails covering 137 mls (6 for beginners, 46 intermediate, 15 advanced and 17 expert). Buttermilk has 41 trails covering 21 mls (14 beginners' runs, 16 intermediate and 11 advanced). Aspen Highlands has 131 trails covering 65 mls (26 beginners' runs, 43 intermediate, 22 advanced and 40 expert). The Silver Queen gondola station, at the base of Aspen Mountain and 100 yds from the small pedestrianised centre, is the main access and ski-school point.

Aspen Mountain has 5 primary lifts in addition to the Silver Queen gondola: 1 high-speed quad, 1 high-speed double, 1 quad and 2 doubles; and 2 secondary lifts (1 quad and 1 double). Family-friendly Snowmass (11 mls W of Aspen) has a total of 20 lifts: primary lifts comprise 7 high-speed quads, 5 doubles, 2 triples, 2 platter pulls and 2 "magic carpets"; secondary lifts comprise 1 double and 1 platter pull. Visitors to Snowmass can ski to 4 different chair-lifts from most properties in the village.

A bus or car is required to access the gentler Buttermilk (2 mls NW) and the more distant Aspen Highlands lifts (2½ mls SW). Buttermilk has 1 high-speed quad, 5 doubles and 1 drag-lift; Aspen Highlands has 3 high-speed quads and 1 triple. A 4-mountain lift pass is available entitling use of all 39 ski-lifts. A ski-school is located at the base of each ski-area.