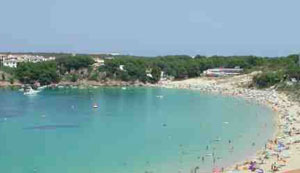 Arenal d'en Castell is a fairly lively resort, hence it is good for families, especially younger ones, and for couples. Not ideal for the elderly because of the steepness.

Accommodation consists of an assortment of apartments and hotels, mainly in the budget bracket and mid price range. A lovely, long curve of golden sand lines much of the bay, with a smaller beach beyond some rocks at the W end. Equipped with pedalloes, windsurfers and sun loungers.

Daytime entertainment consists mainly of the beach and related activities. By night there are several lively late bars which supplement the entertainments offered by the hotels.