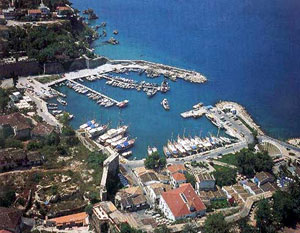 The old town appeals to cultural rather than beach holidaymakers; the latter are better catered for farther out. Antalya is a city first and resort second; it gives visitors a chance to sample some authentic aspects of contemporary Turkish life while providing a good standard of comfort.

West of the city is a long beach of sand mixed with pebbles; better ones, including deserted coves, are found farther W at the foot of the Taurus Mountains. To the E are Lara and other small beaches, which are fine, but suffer from aircraft noise in the high season.

Sightseeing and other attractions are generally centred around Yivli-Minare, a 13th-century Seljuk minaret; the streets of the old town with its Ottoman houses; Hadrian's Gate; the Kesik minaret; Ataturk Park; and a very good archaeological museum.

Local excursions tend to be centred around city and out-of-town beaches; Duden waterfalls; Taurus Mountains; the hidden gorge at Saklikent; national parks of Termessos (ruined city) and Duzlercami; Karain caves. Ruins of Aspendos, Perge and Side.

One of the biggest attractions to Antalya is Olympos and the Fires of Chimaera: The ancient site of Olympos dates back to Hellenistic times when it was an important Lycian city and became famous as a place of worship honouring Hephaestos or Vulcan, the God of Fire. Located on a beautiful sandy bay, the ruins are spread out on either side of the Ulupinar River and include a Byzantine bathhouse with mosaic floors, a marble temple entrance, a theatre, and some excavated tombs. The shoreline is also a major protected nesting site for sea turtles.

On the rocky slopes above the ancient city are a series of eternal flames issuing from cracks in the rock, caused by the combustion of natural gas seeping out of the mountain. It is possible to extinguish them briefly, but they will always re-ignite and are most impressive in the dark when at their most visible. The fire that comes out of the ground is said to be coming from the mouth of Chimaera, a mythical fire-breathing monster with the head of a lion, the body of a goat and a snake's tail, who was slain by the Lydian hero, Bellerophon on his winged horse, Pegasus. Address: Çirali; Transport: The bus from Antalya to Olympos takes 1.5 hours. In season minibuses travel to Çirali from where the eternal flames are less than a mile (1.5km) walk away.