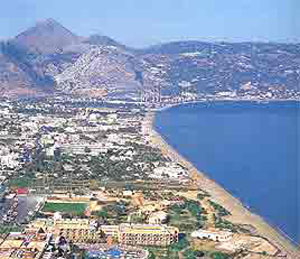 Amoudara is popular with all ages and price budgets, singles, couples and families will find something to fit their particular needs.

Amoudara's main attraction is the long stretch of sandy beach. All types of water sports arenavailable with the windsurfing especially good in July and August. Sunbeds and sun umbrellas are available for hire everywhere.

Accommodation here covers everything from high-category luxury hotels to plain unadorned rooms and plenty of both. Outside of Amoudara's main draw card (the beach), there are an abundance of bars and a couple of discos; Greek evenings at some hotels and bouzouki nightclubs for the insomniacs. Shoppers are treated to an array of fashionable shops in the larger hotels; good range of minimarkets plus jewellery, leather goods, T-shirt and speciality shops. There's even a hypermarket with a Marks & Spencer for those who get a bit homesick.

Excursions here consist of half day trips to an archaeological museum in Heraklion; Minoan Palace of Knossos. Full day trips consist of Spinalonga island; Lassithi Plateau; Phaestos; Chania with its magnificent Venetian architecture; Ottoman-influenced Rethymnon; Souda Bay, an Allied war cemetery; various Minoan sites. One/two days: Samaria Gorge. Week-long trips to many of the Greek Islands can be made.