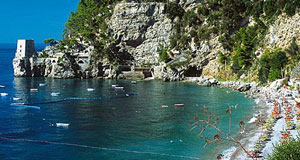 Amalfi is a big hit with scenery and culture lovers. Walkers are presented with a system of footpaths (some steep) lacing the Sorrento/Amalfi peninsula and the mountains. Some of the resort's gradients may not be suited to those with mobility difficulties.

Accommodation here consists mostly of hotels, some with real character ranging from 5-star luxury to homely 2-star B&Bs. There are also a variety of holiday rental apartments and villas located mainly outside the historic centre, in outstandingly scenic situations.

For beach lovers there is a highly organised beach with light grey sand with safe swimming and a relaxed atmosphere all around.

Shoppers are graced with a lovely range of small shops selling food, gifts, ceramics, beachwear, leather goods and typical Italian handicrafts most of which located around quaint cobbled streets.

Popular entertainment here is centred around lazing on the beach, water sports or watching the world go by from one of the numerous cafes on the sea front or the cathedral square. Exploring the town is also popular, including the 11th-century cathedral, the associated "Cloister of Paradise" with its arches and palm-tree-inspired decoration, a museum housing medieval and ecclesiastical treasures, and an old Gothic arsenal. There are a number of religious celebrations throughout the year; art exhibitions, concerts and folk celebrations in July and Aug.

Local excursions consist of half day trips to Grotta dello Smeraldo, with its amazing stalactites; Ravello, with its churches, villas and glorious coastal views; spectacular coastal drive from Castellamare to Minori, taking in picturesque villages. Full day options consist of shopping in Naples; visiting nearby Vesuvius and ancient Roman ruins at Pompeii and Herculaneum; ancient site of Paestum; islands of Capri and Ischia.